Photo Gallery
Salton Sea Photo Gallery
The Salton Sea is a photographer's paradise. There are many great photo opportunities in the region that will keep you coming back to see more. From the spectacular sunrises and sunsets, to the unique landscape and wildlife, the Salton Sea will show you beauty beyond belief. The dry desert climate is ideal for photographers, but the summer can become very warm. Before planning a trip to the area check the local weather forecast and plan accordingly.
Picacho Back Country Photo Gallery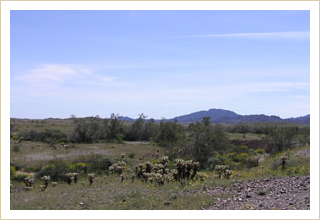 Picacho Back Country is near the State Recreation Area, which lies on the California and Arizona border on the Colorado River. There are hiking trails, mountain bike trails, fishing and boating. Striped bass are plentiful and there are several other types of fish living in the area as well. Picacho is filled with many natural wonders which should be enjoyed by everyone.
Kayak Tour Photo Gallery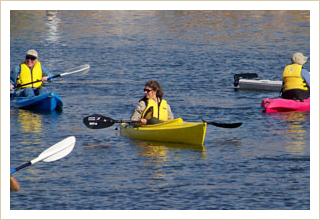 The kayak tours at the park are very popular. This free program is possible because of the support of the SDIA. Enjoy the Salton Sea from this unique vantage and enjoy being surrounded by fascinating wildlife. Check the Event Calendar for kayak tour times and dates and please come on a tour. The spots fill fast so make reservations early.
2008 Speed Weekend Photo Gallery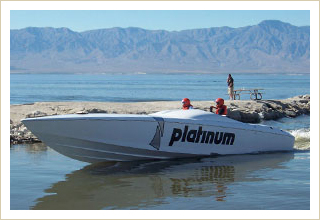 The Salton Sea State Recreation Area was home to the 2008 Speed Weekend event. There were 14 world records broken that weekend. Historically, the Salton Sea has been home to many boat races. This is the fastest body of water in the world because of the low altitude and high salinity in the water.
Painted Canyon Photo Gallery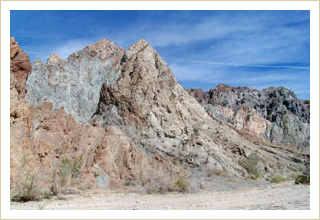 Painted Canyon is near the town of Mecca, Ca. It is filled with spectacular rock formations that can be seen in many different colors. The hiking trails range from relatively easy to difficult. The trail is around 5 miles long. As with any desert hiking trip, make sure you bring plenty of water and other necessary equipment.
Dos Palmas Photo Gallery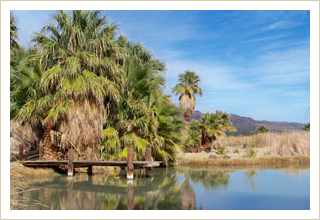 The Dos Palmas Preserve is located near North Shore, CA and is a unique habitat featuring wetlands and desert landscapes. There are protected archaeological sites in the area with rich history. This area was used by the ancient native people for many years before early pioneer exploration. Oases like Dos Palmas provide a diverse environment for both plants and animals.
Bradshaw Trail Photo Gallery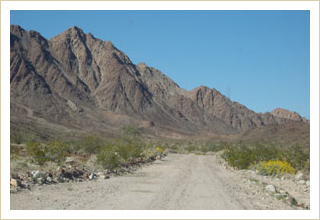 This historic road was blazed by William Bradshaw in 1862. At the time it was the only route in Riverside County between San Bernardino, CA and Ehrenberg, AZ (then known as La Paz, AZ). It was widely used by gold miners in route to and from gold fields in the late 1800's. The trail runs in between the Chuckwalla Mountains and the Chocolate Mountain Aerial Gunnery Range. There are great mountain range views from many areas of the trail.