Camping Information
Camping at the Salton Sea State Recreation Area
There are three types of campsites available year round at the Salton Sea.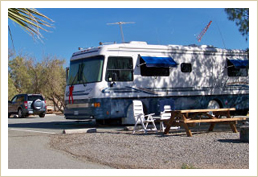 ~Full hookup sites have a barbecue grill, picnic table and are equip with water, power, and sewer connections
~Tent sites supply a fire ring, shade ramada and a picnic table. Showers are nearby.
~Primitive beach sites have chemical toilets and water on site. You need to supply your own fire container.
Headquarters campground has two types facilities. Adjacent to the Visitor Center there are 14 full hookup sites with a beautiful view of the water and shore life. There is access to the boat launch area, the fishing jetty, and a fish cleaning and boat wash station.
Just past the children's playground you will find another area called New Camp, which is perfect for tent camping. There are hot showers and the Ironwood Nature Trail takes off down the beach from the entrance to the loop.
Mecca Beach Campground is one mile south of Headquarters and has tent sites and a few full hookup sites. There are picnic tables and fire rings and easy access to the beach and Campfire Center. During the winter peak season there are evening programs on Saturday night. This area is has flush toilets & hot showers. Enjoy fishing or swimming or go for a walk on the trail up the beach to see a variety of native plants and animals.
Corvina Beach is a primitive area where you can get away from it all and camp along the shoreline. There are chemical toilets and water. And remember to bring your own container or barbecue is you want to have a fire.
Salt Creek Beach is a primitive area but also has a kayak camp. There are water and chemical toilets. Salt creek flows thru the area and attracts lots of different birds and birders too.
Bombay Beach Campground is the southern most area of the park. This primitive site also has chemical toilets and water. It is popular for fishing and kayaking and there are convenience stores in the small town nearby.
***The reservation system is operation during the busy season from November to May. It is recommended that you reserve if you want a full hook-up site on the weekends or holidays. Tent sites do not require a reservation.