Visitor Information
Welcome to the visitor information page. Here you will find facts about the Salton Sea, information about the State Parks, Visitor Center information and more. If you have any question please feel free to contact us. 
Salton Sea Facts and Information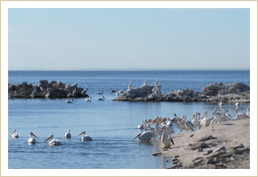 The Salton Sea is located in Southern California in Riverside and Imperial Counties. The surface of the water is 232 feet below sea level and is now nearly 50% more salty than the Pacific Ocean. The Salton Sea has no natural outlets. The water level is sustained by agricultural runoff and the Alamo, Whitewater and New Rivers. The amount of water entering the Salton Sea is less than the total amount of annual evaporation. This causes the water salinity to rise each year. There are ongoing restoration plans to revive the Salton Sea and help maintain a healthy environment for both people and wildlife.
Camping at the Salton Sea
Salton Sea State Recreation Area has several campgrounds for many styles of camping. The RV sites come with a barbecue grill, picnic table and are equip with water, power, and sewer connections. The tent sites have a fire ring, shade ramada and a picnic table. Showers are nearby. Camping is a great way to experience the Salton Sea. Enjoy the beautiful sunsets after a day of outdoor adventures. Relax and enjoy nature by viewing the many species of birds that call this area home.
Salton Sea State Recreation Area Visitor Center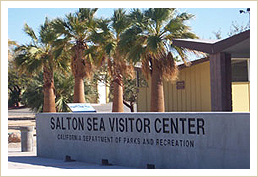 The Visitor Center is located in the Salton Sea State Recreation Area. There are many gifts available in the gift shop and lots of information about the region. The friendly and knowledgeable volunteers can help you discover the wonders of the Salton Sea. If you are new to the area, or have been here before, the Visitor Center is a great stop on your trip to learn about what this area has to offer. There are maps and pamphlets available to help you discover the local attractions.
Salton Sea State Recreation Area
The Salton Sea State Recreation Area is located off Highway 111 in North Shore, CA. There are public picnic areas with barbeque grills and tables. Enjoy a day of bird watching or join us for a free kayak tour. Boat access is available at Varner Harbor within the park. Fishing is also excellent along the shore, or by boat. The tilapia are safe to eat and number in the millions. People report catching hundreds of fish within hours!